Dr. Lorena Santambrogio (Clinical Psychologist)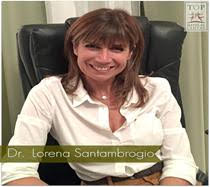 Raised and educated in Italy, Dr. Lorena is a highly experienced Cognitive Behavioral Clinical Psychologist-Psychotherapist. She received her Bachelor Degree in Clinical Psychology at Padua University (Italy) and further she complemented her professional profile with a 4 Years Master Specialization in Como (Italy) at the Post Bachelor Specialization School in Cognitive Therapy. She also has a Master in Counseling at Brescia University ( Italy) .
She has been working as Psychologist /Psychotherapist for 15 years in both public and Private Hospitals in Italy. In addition to her clinical skills experience, Dr Lorena has had an extensive involvement in clinical research and publications in the field of Binge Eating Disorders and Psychological Rehabilitation after heart attack.
After moving to Dubai Dr. Lorena got a DHA License as Clinical Psychologist and provides psychological treatments based on the Cognitive Behavioral Therapy ( CBT) in a wide range of mental health and emotional issues. The service is aimed at adults (individuals and couples).
AREAS OF INTEREST
Anxiety Disorders ( Panic attack, Generalized Anxiety, Social Phobia, Specific Phobia , Obsessive Compulsive Disorders)
Mood Disorders ( Depression , Post-partum Depression)
Adjustment Disorders
Binge Eating Disorders ( Anorexia , Bulimia, Obesity)
Relational Difficulties
Self-esteem
Parent training
Coping with Emotional and psychological feelings after heart attack/ heart surgery