Dr. Joanna Fadel (Prosthodontics)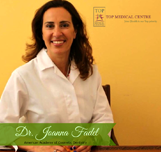 "Because you only have one chance to give a first good impression, a beautiful smile is a key factor in this first impression."
A member of the American Academy of Cosmetic Dentistry since 2007, Dr.Joanna first graduated as a general dentist and then went on and received her Prosthodontics Postgraduate degree.
She joined Top Medical Centre 2 years ago ,where she can attend all your concerns in terms of general and cosmetic dentistry .
When you visit I can guarantee that you will come in with a smile and leave with a grin!
Services provided by Dr Joanna Fadel :
Teeth whitening
Smile makeovers /Smile designs
Veneers
EMax and Zirconia Crowns
Cosmetic Fillings
Smile Rejuvination
Same Day Crown Delivery
Inlays and Onlays
Full mouth rehabilitations
Crowns Over Implants
Gum Contouring
Lumineers
She speaks English, French , Arabic and Spanish .